Sébastien Calcio Gaudino, 42, becomes a member of the ProCapital's Executive Board as Chief Customer Officer.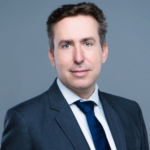 As a graduate of HEC and Centrale Paris in 2002, Sébastien Calcio Gaudino began his career in management and organization consulting at Unilog Management, within the Banking & Finance business line.
He joined ProCapital in 2006 to manage the takeover of the securities business of Banque AGF, which has now become Allianz Banque. After that, he became Director of Organization & Projects, then Project Manager to the Executive Board, before becoming Chief Financial Officer in 2014.
Since January 2021, Sébastien Calcio Gaudino is in charge of the Clients, Projects and IT Division of ProCapital.
The Clients, Projects and IT Division, whose creation is part of Crédit Mutuel Arkéa's new Strategic Plan, aims to address four strategic areas:
Support ProCapital's clients in the implementation of regulatory and market changes, as well as in the launch of new products and services
Guarantee the quality of service in a context of strong increase in volumes
Develop the client portfolio by strengthening the sales teams, and focusing on innovation and enrichment of financial savings offers
Carry out major transformation projects, such as the convergence of ProCapital's IT platforms in France and Belgium